Employment for Abu Dhabi Trick Drivers & Drivers in Saudi Arabia
Traila Drivers & Drivers
According to a job advertisement published in the daily Express Newspaper on March 23, 2023, for the location Dammam, Jeddah Saudi Arabia, Anuj Overseas Job Promoters is seeking candidates for the following positions:
a driver and a trailing driver
Intermediate and Matricula are preferred forms of education.
The most recent driving employment and other overseas positions at Anuj Overseas Employment Promoters will close on or around March 30, 2023; the precise date can be seen in the advertisement. Read the entire advertisement online to learn how to apply for the most recent Anuj Overseas Employment Promoters job openings. Salary ranges between 270000 and. Overtime is permitted. The employer offers medical, lodging, and transportation services.
Details 

of Traila Drivers & Drivers
Category / Sector:
Overseas
Education:
Matric | Intermediate
Vacancy Location:
Dammam, Saudi Arabia, Pakistan
Job Industry:
Driving Jobs
Expected Last Date:
30 March, 2023
or as per paper ad
Expected Salary:
270000 Rs.
Official Advertisement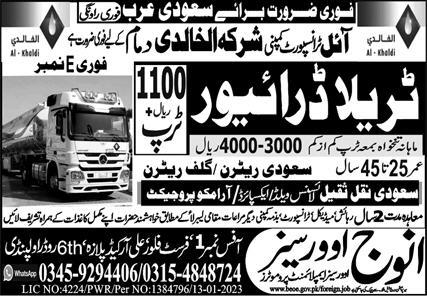 Note: Beware of Fraudulent Recruiting Activities. If an employer asks to pay money for any purpose, do not pay at all and report us via contact us form. Human typing error is possible. Error & omissions excepted.