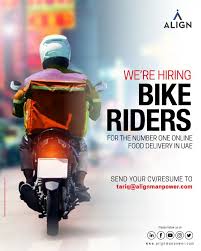 Exciting Bike Rider Job Openings in Saudi Arabia 2023: Apply Now!
Career Opportunity Alert: Bike Rider Jobs in Saudi Arabia with Jobs Wright Recruitment Services
Bike Rider Jobs Open in Saudi Arabia 2023
Introduction:
Are you an experienced bike rider looking for exciting job opportunities in Saudi Arabia? Look no further! Jobs Wright Recruitment Services in Dammam and Makkah, Saudi Arabia, is currently hiring bike riders for various driving positions. This article provides all the essential details about these job openings, including the qualifications required, application process, and benefits offered.
Job Details:
Date Posted / Updated: 27 May, 2023
Category / Sector: Overseas
Newspaper: Express Jobs
Education: Matric | Intermediate
Vacancy Location: Saudi Arabia
Organization: Jobs Wright Recruitment Services
Job Industry: Driving Jobs
Job Type: Full Time
Expected Last Date: 03 June, 2023 (or as per paper ad)
Expected Salary: 119,000 Rs.
Jobs Wright Recruitment Services, a reputable recruitment agency in Saudi Arabia, has announced numerous driving positions for bike riders in Dammam and Makkah. The advertisement for these positions was published in the daily Express Newspaper on May 27, 2023. Candidates with a background in Matric and Intermediate education are preferred.
Interested candidates can apply for the Jobs Wright Recruitment Services driving positions until June 3, 2023, or as per the closing date mentioned in the newspaper ad. To learn how to apply for these exciting job opportunities, we recommend reading the complete advertisement online. Gain confidence by acquiring skills such as motorcycle courier, delivery, and driving to strengthen your application for these Jobs Wright Recruitment Services positions.
Salary and Benefits
Successful candidates can expect a competitive salary of 119,000 Rs. Additionally, overtime work is allowed, providing an opportunity for increased earnings. During employment, the company offers accommodation, medical facilities, and transportation services.
How to Apply?
To apply for the Jobs Wright Recruitment Services job advertisement, follow these steps:
Visit the official website of Jobs Wright Recruitment Services.
Navigate to the "Careers" or "Job Openings" section.
Look for the specific bike rider job position you are interested in.
Read the job requirements, responsibilities, and other details thoroughly.
Prepare your updated resume and other relevant documents.
Fill out the online application form accurately.
Double-check all the provided information before submitting your application.
Submit your application and wait for a response from the company.
Important Note:
Beware of fraudulent recruiting activities. Jobs Wright Recruitment Services does not require any payment for the application process. If any employer asks for money for any purpose, do not pay and report such incidents through the "Contact Us" form on the company's website. While we strive to provide accurate information, human typing errors are possible. Errors and omissions are excepted.
Conclusion:
If you have the necessary qualifications and are passionate about bike riding, the bike rider jobs at Jobs Wright Recruitment Services in Saudi Arabia are the perfect opportunity for you. Apply before the closing date to enhance your chances of being selected. With a competitive salary, benefits, and the chance to work in a reputable organization, this job will be a rewarding experience for any bike enthusiast. Don't miss out on this incredible opportunity!