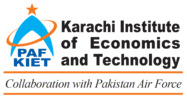 Karachi Institute of Economics and Technology (KIET) Jobs 2023: Exciting Employment Opportunities in Karachi
Apply Now for Web Developer and Apex Developer Positions at Karachi Institute of Economics and Technology (KIET) Jobs 2023
Karachi Institute of Economics and Technology (KIET) Jobs 2023
Karachi Institute of Economics and Technology (KIET) is pleased to announce job openings for the year 2023. These exciting opportunities are now available in Karachi and can be accessed through our user-friendly online job portal. We are looking for highly qualified candidates to fill the following positions, each offering unique prospects for growth and development. The necessary details regarding age, qualifications, experience, and domicile requirements for each post are provided below.
Published Date: June 13, 2023
Last Date to Apply: June 25, 2023
Source: Jang Newspaper
Organization: Karachi Institute of Economics and Technology
Job Location: Karachi
Vacancy Details of KIET Jobs 2023
Post Name: Web Developer

Qualification: Bachelor's Degree
Number of Seats: 01

Post Name: Apex Developer

Qualification: Diploma in Web Design
Number of Seats: 01
How to Apply Online for KIET Jobs 2023?
If you are an enthusiastic candidate who meets the criteria mentioned for the above-mentioned posts, we invite you to apply online through the official website of the KIET Job Portal. Please note that applications submitted through postal mail or by hand will not be accepted. The deadline to submit your online application for KIET Jobs is 25th June 2023.
Don't miss out on this incredible opportunity to join the Karachi Institute of Economics and Technology (KIET). Apply today and take the first step towards an exciting and rewarding career in your field of expertise.
For further information and updates, please visit our official website or contact our HR department. We look forward to welcoming talented individuals to our team at KIET.