SKMCH Jobs 2023 at Shaukat Khanum Cancer Hospital
Shaukat Khanum Cancer Hospital
Through the online job portal. Shaukat Khanum Cancer Hospital SKMCH Jobs 2023 have been announced for Karachi, Lahore, and Peshawar. Below is an official advertising. For the positions of consultant and senior instructor, applications are requested. Men and women who meet the requirements can apply for these positions. In the advertising provided below, each position's required age, education, experience, and place of residence are listed alongside one another.
Detail of the Shaukat Khanum Cancer Hospital
Vacancies Details of Shaukat Khanum Hospital Jobs 2023
Assistant Clinical Nurse Manager
Assistant Managers
Biomedical Engineers
Boiler Engineers
Clinical Nurse Instructor
Clinical Nurse Manager
Clinical Nursing Instructor
Cook
CPSP Approved Fellowships
Deputy Managers
Dish Washer
Electrical Engineers
Electrician
Generator Operator
Hardware Technicians
Hospital Fellowships
HR Executives
HVAC Supervisors
IT Room Operator
Lift Operator
Maintenance Technicians
Managers
Mechanical Engineer
Medical Consultants
Medical Gas Technicians
Medical Technicians
Network Assistant
Network Engineers
Nursing Team Leader
Office Coordinators
Plumber
Plumbing Supervisor
Principal Medical Physicist
Resident Doctors
Sanitary Worker
Senior Instructors
Senior Nursing Lecturer
Senior Software Process Engineers
Software Engineers
Software Quality Engineers
Staff Nurses
System Engineers
UPS Technicians
Waiter
Official Advertisement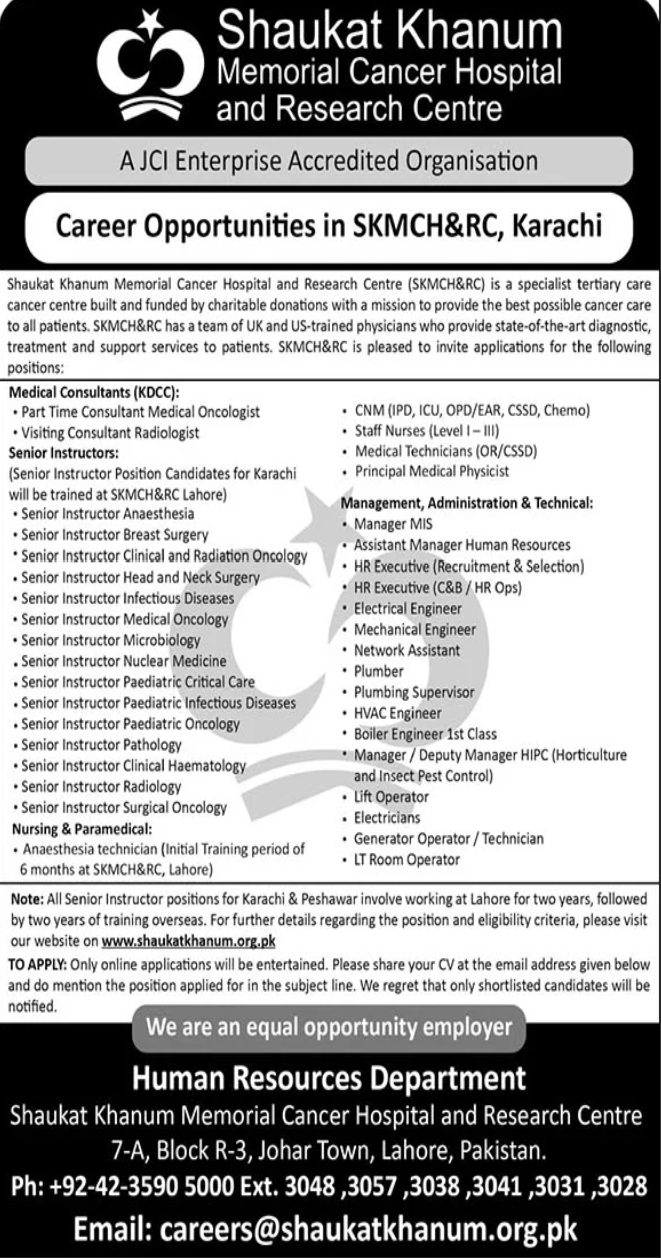 For further details regarding the positions and eligibility criteria, please visit official website .
Online online applications will be entertained.
Please share your CV at the email address given below in each advertisement and do mention the position applied for in the subject line.
Only shortlisted candidates will be informed.
All applicants for senior instructor positions need to have passed IELTS test, or an acceptable alternative, at the appropriate level.
The last date to apply for Shaukat Khanum Hospital Jobs in  Lahore, Karachi & Peshawar is 21st May 2023.