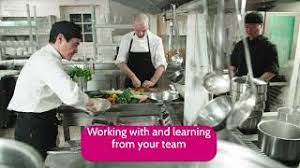 Turkish jobs for female waitresses and kitchen assistants in 2023
waitresses and kitchen assistants
According to an advertising from May 5, 2023 published in the daily Express Newspaper, Teleport Manpower Consultants Istanbul, Ankara, Turkey is accepting applications from qualified applicants for the positions of waiter, female waiter, and kitchen assistant. Candidates with educational backgrounds in intermediate, matric, etc. will be given preference.
new hotel positions, among others The closing date for international positions with Teleport Manpower Consultants is approximately May 13, 2023. To learn how to apply for the most recent Teleport Manpower Consultants job openings, read the entire advertisement here. Learn today's abilities in the areas of food delivery, takeaway and cooking to apply with assurance for these Teleport Manpower Consultants opportunities. Salary starts at $115,000. The possibility of overtime exists. Employer offers transportation, lodging, and medical services.
Detail of the waitresses and kitchen assistants 
Date Posted / Updated:
05 May, 2023
Category / Sector:
Overseas
Education:
Matric | Intermediate
Expected Last Date:
13 May, 2023
or as per paper ad
Expected Salary:
115000 Rs.
Official Advertisement 
Note: Beware of Fraudulent Recruiting Activities. If an employer asks to pay money for any purpose, do not pay at all and report us via contact us form. Human typing error is possible. Error & omissions excepted.