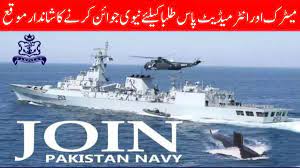 Unlock a Bright Future: Join Pak Navy as PN Cadet 2023-B for Permanent Commission
Unveiling the Path to Joining Pak Navy as PN Cadet 2023-B
Join Pak Navy as PN Cadet 2023-B: Your Gateway to an Exciting Career
Are you looking for an exceptional career opportunity in the Pakistan Navy? If you have completed your Matric and Intermediate education, then joining the Pak Navy as a PN Cadet 2023-B for Permanent Commission could be the perfect choice for you. In this article, we will provide you with all the necessary information about the online registration dates and eligibility criteria for this prestigious opportunity.
Eligibility Criteria to Join Pak Navy as PN Cadet 2023-B
To qualify for the Pakistan Navy, aspiring candidates need to meet specific eligibility criteria. Here are the detailed requirements regarding education, age, and height:
PN Cadet:
Gender: Only Male candidates are eligible for this position.
Age: Applicants must be between 16½ to 21 years of age.
Marital Status: Unmarried individuals can apply for this position.
Height: The minimum height requirement is 5 feet 4 inches (162.5 cm).
Qualification: Candidates who have completed Matric and F.Sc or O/A Level with a minimum of 60% marks in subjects like Physics, Math, and either Chemistry, Computer Science, or Statistics are eligible to apply.
Candidates with an O/A Level background are required to submit an equivalence certificate. For F.Sc part-II appearing candidates, a minimum of 65% marks in part-I is necessary to apply. However, they must provide a hope certificate from the head of their respective college or institute. It is essential to complete the F.Sc/HSSC equivalent examination before January 1, 2024. Candidates failing to achieve a 60% score after submitting a hope certificate will be disqualified at any stage of the selection process or discharged during training.
How to Join Pak Navy as PN Cadet 2023-B & Registration Dates
If you meet the eligibility criteria mentioned above, you can take the next steps to join the Pakistan Navy as a PN Cadet 2023-B. Here's what you need to do:
Visit the official website of the Pakistan Navy to complete the online registration process. The website provides a user-friendly interface for candidates to enter their details and submit the application form.
Alternatively, you can register yourself by visiting the nearest Pakistan Navy Recruitment and Selection Centre. The staff at the center will guide you through the registration process and assist you with any queries you may have.
Please note that the online registration is open from 21st May to 4th June 2023. Make sure to submit your application within this timeframe to be considered for the PN Cadet 2023-B program.
Joining the Pakistan Navy as a PN Cadet not only offers a rewarding career but also provides an opportunity to serve your country with honor and pride. Don't miss out on this chance to be a part of one of the most esteemed organizations in Pakistan.
Take the first step towards an exciting future by applying for the PN Cadet 2023-B program today!