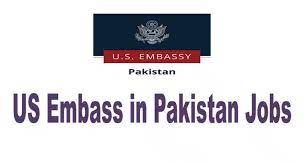 Unlock Your Career Potential: Apply for U.S. Embassy Jobs in Pakistan 2023
"Exciting Opportunities Await - Join the U.S. Embassy in Pakistan and Shape Your Future"
U.S. Embassy Jobs in Pakistan 2023: Exciting Opportunities Await You!
Are you searching for a rewarding career with the U.S. Embassy in Pakistan? Look no further! The U.S. Embassy & Consulates in Pakistan have recently announced job openings for 2023, offering competitive positions with attractive salary packages. If you aspire to work at the U.S. Embassy and be a part of a dynamic team, this is your chance. Read on to discover all the details about these exciting job opportunities and the application process.
Explore the U.S. Embassy Job Openings:
The U.S. Mission in Pakistan is actively seeking highly motivated individuals to fill various vacant positions. To view the complete list of available job opportunities and submit your application online, visit the Electronic Recruitment Application (ERA) page on the official U.S. Embassy website. Both male and female candidates who meet the eligibility criteria are encouraged to apply for these positions. Each advertisement specifies the age limit, qualification, experience, and domicile requirements for the respective role.
Important Dates and Information:
The announcement for U.S. Embassy Jobs in Pakistan was published on June 4, 2023. The last date to submit your application online is June 25, 2023. Please note that all applications must be submitted through the official website to be considered for the positions.
Vacancies Details: Exciting Roles Await You:
The U.S. Embassy offers a wide range of positions in various fields. Here are some of the job roles available for 2023:
If you have experience in leading a team and a strong background in civil workshop operations, this position is ideal for you.
Join the embassy's gardening team and contribute to the beautification of the embassy grounds.
3. HVAC Technician:
Apply your skills as an HVAC technician to ensure the smooth functioning of heating, ventilation, and air conditioning systems at the embassy.
4. Maintenance Mechanic:
Work as a maintenance mechanic and play a vital role in the upkeep and repair of embassy facilities.
5. Maintenance Worker:
Become a maintenance worker and provide essential support in various maintenance tasks.
6. Mechanical Equipment & Appliance Systems Supervisor:
As a supervisor, oversee the operations and maintenance of mechanical equipment and appliance systems.
7. Painter:
Showcase your painting skills and help maintain the embassy's aesthetics by joining as a painter.
8. Residential Electrician:
Work as a residential electrician and contribute to the safe and efficient electrical systems in embassy residences.
9. Trade Helper:
Support the embassy's operations as a trade helper, assisting in various trade-related tasks.
10. Truck & Equipment Operator Supervisor:
Manage and supervise the operation of trucks and equipment to ensure smooth logistics at the embassy.
11. Waste Water Treatment Plant Operator:
Play a crucial role in the efficient management of the embassy's waste water treatment plant.
How to Apply Online for U.S. Embassy Jobs in Pakistan?
To apply for any of these positions, click on the "Submit Application" button on the official website. For a detailed guide on how to apply, visit the Mission internet site. Make sure to attach your academic degrees, transcripts, detailed mark sheets, and any other relevant documents as a single attachment using the "Other Document" tab. Additionally, include certificates and letters of job-related experience from previous employers, along with proof of current employment (such as salary slips or appointment letters), as a single attachment using the "Other Document 2" tab.
If you are not a citizen of Pakistan, please ensure you possess a valid work or residency permit for the host country.
Don't Miss Out on This Opportunity! Apply Now!
The deadline for submitting your online application for U.S. Embassy Jobs