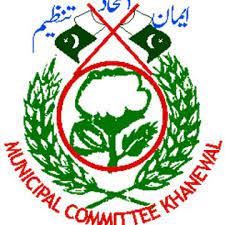 Vacancies at Khanewal Municipal Committee
Khanewal Municipal Committee
Municipal Committee jobs advertisement in daily Nawaiwaqt Newspaper dated around 19 May 2023 welcomes applications for the vacant post of htv driver, helper, live driver, and driver in Khanewal, Khandelwal Punjab Pakistan. Middle and primary education are preferred.
Municipal Committee current Government Management jobs and others are available until June 10, 2023, or until the closing date specified in the newspaper ad. Read the entire ad online to learn how to apply for the most recent Municipal Committee employment openings.
Detail of the Khanewal Municipal Committee 
Date Posted / Updated:
19 May, 2023
Category / Sector:
Government
Newspaper:
Nawaiwaqt Jobs
Education:
Primary | Middle
Vacancy Location:
Khanewal, Punjab, Pakistan
Expected Last Date:
10 June, 2023
or as per paper ad
Official Advertisement
Note: Beware of Fraudulent Recruiting Activities. If an employer asks to pay money for any purpose, do not pay at all and report us via contact us form. Apply as per instuctions & dates mentioned in official job ad. Govt jobs may not be applied online here. Human typing error is possible. Error & omissions excepted.