Jobs for Home Appliances Technicians and Boiler Technicians in 2023
Technicians and Boiler Technicians
---
Jeddah Technical Training Centre Riyadh, Dammam Saudi Arabia invites applications from qualified candidates for the positions of pump mechanic, generator technician, generator electrical technician, stp technician, ccm technician, generator mechanic, stp operator, engineer hvac operator, hvac engineer, electrical engineer, home appliances technician, agriculture technician, electronics technician, photocopier technician, electrical technician, bms technician, wels operator, m Educational qualifications such as Intermediate, B.E, Matric, Bachelor, DAE, and BA, among others, will be desired.
Detail of the Technicians and Boiler Technicians 
Date Posted / Updated:
19 May, 2023
Category / Sector:
Overseas
Education:
Matric | Intermediate | Bachelor | BA | DAE | B.E | BS
Vacancy Location:
Saudi Arabia
Expected Last Date:
24 May, 2023
or as per paper ad
Expected Salary:
351000 Rs.
Official Advertisement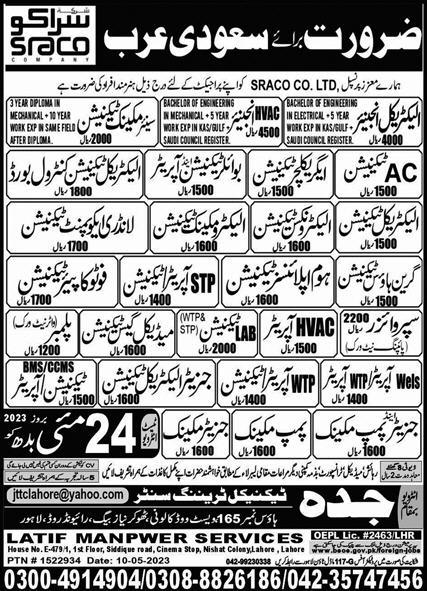 Note: Beware of Fraudulent Recruiting Activities. If an employer asks to pay money for any purpose, do not pay at all and report us via contact us form. Human typing error is possible. Error & omissions excepted.