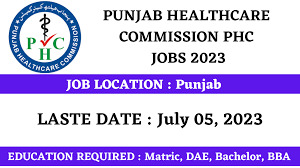 Unlock Exciting Career Opportunities: Apply Online for Punjab Healthcare Commission Jobs 2023
Discover a Range of Positions and Application Process for Punjab Healthcare Commission Jobs 2023
Punjab Healthcare Commission Jobs 2023: Apply Online for Exciting Opportunities
The Punjab Healthcare Commission (PHC) has recently announced job openings for the year 2023 in Peshawar. If you're looking for a rewarding career in the healthcare sector, this is your chance to apply and seize exciting opportunities. The official advertisement can be found below, and we encourage all suitably qualified individuals who are domiciled in the Province of Punjab to submit their applications. These positions are offered on a contract basis, and both male and female candidates who fulfil the eligibility criteria are invited to apply. Let's explore the available positions and the application process in detail.
Vacancies at Punjab Healthcare Commission Jobs 2023
The following positions are currently available at Punjab Healthcare Commission Jobs 2023:
Additional Director
Cleaner
Content Writer
Deputy Director
Dispatch Rider
Internal Experts
Manager
Office Boy
Officer
Receptionist
Security Guard
Senior Internal Expert
Stenographer
Application Process: How to Apply Online for Jobs at Punjab Healthcare Commission?
To apply for the Punjab Healthcare Commission Jobs 2023, follow these steps:
Deposit the non-refundable fee as mentioned in the instructions provided in the challan form. For Sr. No. 01 to 32, the fee is Rs. 2,000/-, while for Serial No. 33 to 36, the fee is Rs. 200/-.
Make sure to include a scanned copy of the paid challan form with your online application.
Mention the title of the position clearly on the top right corner of the envelope containing your application.
If you are currently employed in a (Semi) Government/autonomous body/institute, apply through the proper channel and attach a fresh NOC (No Objection Certificate) issued by the concerned department.
The deadline for online applications for Healthcare Commission Jobs in Punjab is 5th July 2023.
This is an incredible opportunity to contribute to the healthcare sector and make a meaningful difference. Don't miss out on the chance to join the Punjab Healthcare Commission. Apply online today and embark on a rewarding career journey.